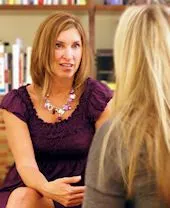 We are interested in improving your mental health, which will increase your happiness. It is our belief that your symptoms, what ever they might be, are in direct proportion to your unhappiness and disconnection from others.
In talking with you and hearing your story, we are interested in understanding your lifestyle. This is our own unique approach to solving the life tasks of work, intimacy/sex, friendship/community, parenting, and leisure activities.
In some cases we may even do a lifestyle assessment.
This is a systematic procedure to learn the unique laws that govern an individual's thoughts and behavior. By understanding one's unique lifestyle or "law of movement," adjustment and flexibility can occur. If we make better acting and thinking choices, we will feel better and improve the quality of our lives.
Your choice in marriage, work, friends and leisure is influenced by your lifestyle.
Individual therapy is a process of helping you understand yourself and others. To accomplish that task, we use a systematic approach that assesses the individual from a holistic and purposive perspective.
Our goal is to help you recognize your individual lifestyle, build on personal strengths, improve the quality of life, identify and explore major life transitions, and become a more encouraging person to yourself and others.
A marriage and family therapist (MFT) works primarily with individuals, couples, families, and groups from a systemic perspective, one that requires expertise in interpersonal relationships, interaction dynamics, system theory and thinking, and special conceptualization and procedures that are distinct from individually oriented therapies. Marriage and family therapy is conducted from a systemic perspective regardless of how many clients attend therapy or the particular training degree of the therapist. This definition distinguishes marriage and family therapy from non-systemic therapy with couples or families.
Do you have more questions?
Take a look at the FAQ section